Invictus 2016 Orlando
Making an impact
The 2016 Invictus Games were an amazing experience. With 500 athletes from 14 countries competing there was action every day from archery to wheelchair rugby. Prince Harry talked about the incredible brotherhood (in no way excluding women) that is experienced in the military and how that feeling of support and connection translates into events like this. Most athletes had the support family and friends as well as coaches and teammates who had traveled with them.
Wherever they came from, whatever prosthesis or orthosis they depended on, Ottobock was there with a tool kit and creative, willing hands. Our Technical Hospital was staffed by our experienced Paralympic and Invictus team, along with US Prosthetists from Prosthetic & Orthotic Associates (POA) and Tampa Bay Prosthetics.
Our technical team was trackside, and courtside, ready at a moment's to adjust, repair or replace a limb or brace. Back in the Technical Hospital, we handled everything from liners to feet to KAFO braces, making sure that every part and piece was functioning as it should.
Perhaps most exciting of all, athletes would return to share the results of their competition and a hug or a smile.
If you weren't in need of service for your medical device, you could spend time at our Welcome Tent checking out how our unique line of sports prostheses help people leap, sprint, dive and play all manner of sports. You could even become a Champion!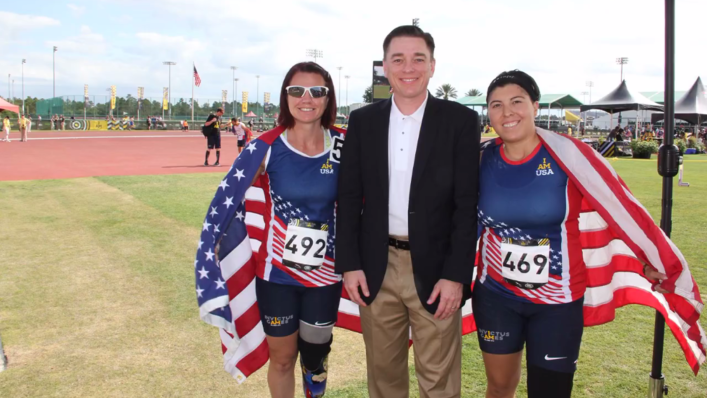 From trials to closing ceremony, from the first race to the final heat, the spirit of Invictus infused the crowds with passion for their teams, acknowledging that simply being able to roll or step onto the field of competition took incredible drive and determination for many of the participants.
"It was a moving experience to present medals to the athletes," said Matt Swiggum, Executive Vice President of Sales and Marketing for Ottobock North America. "The camaraderie was palpable throughout the days I was there, and the level of sportsmanship and ability was amazing."
"I have attended several global competitions on behalf of Ottobock," said Brad Ruhl, President of Ottobock US HealthCare, "but never anything that had the passion and personal connection I saw evident in Orlando. Invictus brought a new level of meaning to no man left behind and to Ottobock's commitment to helping people be independent and mobile."
At the closing ceremony, Aaron Holm, Ottobock's Manager of Consumer Engagement, said it best. "This is just the beginning. I can't wait to see where these athletes go from here. And I can't wait for Invictus 2017 in Toronto!"
Photos from the Ottobock team