How to choose and work with a prosthetist
Most people do quite a bit of homework to find a doctor and dentist they like and trust. For amputees, the same should be true about finding a prosthetist.
Prosthetists are highly trained and skilled health care providers. They typically complete a college degree and a two-year certification program in prosthetics—or a college degree in prosthetics alone—plus a year-long clinical residency.
Whether you are in need of a prosthetist for the first time, or whether you are looking for a new prosthetist, check out the suggestions from Ottobock below for a supportive and long-term relationship.
For more information, visit the Ottobock Info for new amputees.
---
Step 1: Generate your list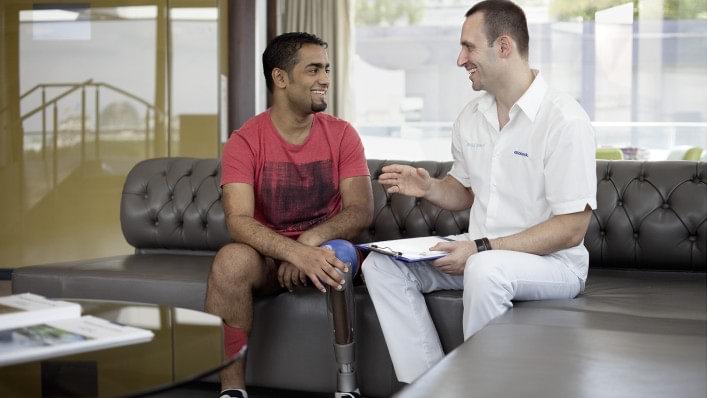 Generate your list
Compile lists of prosthetists to evaluate. Ask for referrals from amputee support group members and your health care team and for a comprehensive review of your patient records, including the referring physician notes.
Helpful resources for finding a credentialed prosthetist can be found through the Amputee Coalition.
Help getting your records audit ready, includes response letter format with medical record attachment.
Full medical record review and appeal package preparation.
Step 2: Evaluate your options
Evaluate your options
If you are a new amputee and still in the hospital, ask the physician in charge of your care to bring in multiple specialists from different prosthetic companies so you and your family can choose the provider that is right for you. It may also be important for you to talk with a prosthetist before surgery, to make sure that the amputation level your surgeon is planning will work well with ever-changing prosthetic technology.
Consider the distance the prosthetist's office is from your home or office. Initial fittings will require multiple visits.
Ask the prosthetist for names and contact information of peer counselors, who are also amputees and who are willing to meet with others to discuss their experiences.
Ask the prosthetist about his or her philosophy regarding the use of advanced technology. Sometimes prosthetists will recommend lesser technology such as a mechanical knee for a new amputee to evaluate whether a person will be a good candidate for more advanced technology. But that strategy may not be sound. Advanced products, such as microprocessor knees, come with higher prices initially, but they provide well researched long-term benefits – improved quality of life, fewer stumbles and falls, and improved biomechanics that can actually prevent some joint and muscle problems. People who get used to using less advanced technology typically must unlearn bad habits when they upgrade to more advanced technology.
Find a prosthetist who has experience with getting coverage for advanced technology.
Finally, remember that chemistry is as important a consideration as a clinician's experience. You must be comfortable voicing your concerns, questions, and needs to your prosthetist as soon as they come up—and to trust in your prosthetist's response. Look for someone who is open to discussing your ideas rather than simply dictating ideas to you.
Step 3: Make the most of your relationship
Make the most of your relationship
Understand that your prosthetist's job is to address your concerns, and your job is to bring those concerns to his or her attention.
See your prosthetist right away when any concerns arise. Any issues with comfort or function should be addressed in a timely manner so you can get the most benefit out of your prosthetic technology.
Go in for a "checkup" with your prosthetist once or twice a year, even if you are not having issues. Office visits are offered at no cost. Prosthetists don't bill for their time, whether for initial assessments or for monitoring ongoing progress or needs. They bill only for materials, products and repairs.
Ask your prosthetist as many questions as possible so you understand the functioning of your prosthetic system and the recommendations your prosthetist is making.
Remember that ultimately YOU must make your own medical decisions. Prosthetists will make recommendations, but you are ultimately in charge of your own care. If you're not sure about the recommendations your prosthetist is making, don't hesitate to get a second opinion from another prosthetist.
---