News and Notes
Catch up on the latest
Take a moment and read the latest stories about people who use our products, events Ottobock attends and organizations that are doing good work. Feel free to share a particularly interesting tidbit with friends and family, too. And, if you have something to share, please send it to us.
---
04/28/21
Bilateral Amputee to Ride a Bicycle Across the U.S. with Blind Paralympic Cyclist in Historic Journey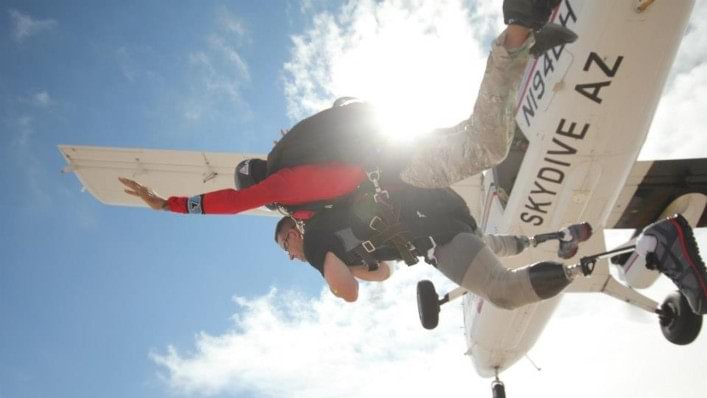 Bilateral below the knee amputee Steve Martin will hit the road with blind cyclist Shawn Cheshire for a cross-country bike ride in May
Steve will appear on the Ottobock "Ask Aaron" Facebook Live broadcast on April 30 to commemorate Limb Loss Awareness Month
AUSTIN, TEXAS (APRIL 30 2021)– A U.S. veteran who lost both legs as a result of a roadside bomb in Afghanistan will ride a bicycle behind a blind cyclist on a trek across the United States, making history as the first bilateral amputee and the first completely blind person to ride unmodified, solo bikes on their own on a cross-country ride. RSVP for The Ottobock "Ask Aaron" Facebook Live broadcast to attend an exclusive interview with this courageous amputee on the last day of April, which is Limb Loss Awareness Month.
Beginning in mid-May, 51-year-old bilateral below the knee amputee Steve Martin, who refuses to allow physical limitations to stop him from achieving his goals and living an active, adventuresome life, will start pedaling a standard bike with his prosthetic feet and follow the blind Paralympic cyclist Shawn Cheshire on an epic journey across thousands of miles.
"I plan to get every mile and every minute out of my body," said Steve, setting new standards of endurance. "I want to be active. I want to run my life. I want to show the world that losing my legs may have altered my path, but it did not stop me."
On April 30, Steve will share a sneak preview of this extraordinary challenge of a cross-country bicycle ride on the Ottobock "Ask Aaron" Facebook Live broadcast. He will provide details of the ride along the TransAmerica Trail, a 2-lane road across the nation – a bike path that an average of a thousand people ride every year. The ride will start in Florence, Oregon on May 17th and end in Virginia Beach, VA on July 8th.
Steve is planning to ride an average of 84 miles per day, with 113 miles scheduled as the longest ride in any single day. He and Shawn will also veer off the trail to stop at schools for the blind in four states, as well as at police stations and fire departments – and a stop at an Ottobock facility in Louisville, Kentucky where logistics and distribution are managed. Steve said that he wants to share his motivation with others who are facing similar limitations in body or mind.
"I once had a mindset of 'What do I do now?' But I changed it to 'What am I going to do next?' My message to others in similar situations is to get off the couch. Get out there and do something."
As a bilateral amputee, Steve has run 60 half-marathons and 18 full marathons. He has also hiked the Grand Canyon and climbed Mount Kilimanjaro. Professionally, he was the first and only double amputee to serve as a state trooper in the state of Arizona. He lives in Goodyear, Arizona.
For updates about Steve's bike ride across America, go to the Ottobock "Ask Aaron" homepage, listen to the April 30th live interview, and stay connected on social media for regular updates from the road beginning in May. You can also visit the Choosing to See website for more information on their ride of a lifetime.
About Ottobock
Ottobock uses innovative technology, superior service, and world-class education to help people with physical mobility challenges. Established in 1919 in Germany, Ottobock opened its doors in the U.S. in 1958 and in Canada in 1978. Currently in its third generation as a privately held company, Ottobock offers products and services to help people maintain or regain their freedom of movement.
---
---