Kseniya's C-Brace story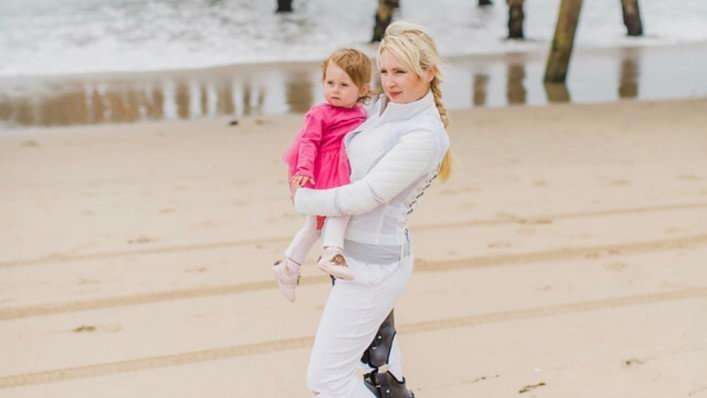 A bittersweet day
On February 18, 2017, Kseniya Orlik gave birth to a beautiful, healthy baby girl, Aspen. The day that signifies the beginning of Kseniya's journey into motherhood is also marked by something else. That is the day the 31-year-old emergency medicine physician from Hermosa Beach, California, developed T10 incomplete paraplegia on her right side.
Kseniya's pregnancy proceeded normally and uneventfully, but at 38 weeks, just two weeks before her due date, Kseniya developed pre-eclampsia and edema (swelling), a potentially dangerous combination for the mother and her baby. Aspen had to be delivered immediately.
"When I came out of the anesthesia, one side wore off and the other side didn't," she says.
The combination of the epidural anesthesia and Kseniya's pregnancy-induced high blood pressure resulted in the development of anterior spinal artery syndrome, a condition in which the primary blood supply to the anterior portion of the spinal cord is interrupted. "It's pretty much the equivalent of having a stroke," Kseniya explains.
Not a case for a standard KAFO
At first, doctors thought the condition was transient and would resolve in a couple of weeks. However, after three months of physical therapy with limited progress, a specialist confirmed the issue was not likely to resolve, at least not any time soon.
"My abs, hip-flexors, quads, glutes, hamstrings, everything on the right side is pretty weak," Kseniya says. "I have some function, but as the day wears on it becomes worse due to muscle fatigue."
During those first several months, Kseniya used a cane to assist with walking, but because she lost so much muscle function on the right side, she had to drag her leg behind her. When it became clear she would require long-term stabilization and support, her physical therapist referred her to Prosthetic & Orthotic Group in Signal Hill, California, to be evaluated for a lower-extremity orthosis.
"I couldn't walk unless I locked my leg because I would fall down," Kseniya explains. "Because I don't have a functioning hip flexor, I can't propel myself forward, so if you put me in a standard brace, it's like dragging an anchor. I didn't want to drag an anchor around, but I needed something because I could barely walk. I needed some stability."
The single best option
Given the nature of her injury, Kseniya needed a bracing solution that would not only stabilize her knee but would also compensate for weakened quadriceps so she could safely weight bear on her knee and propel herself forward without putting undue stress on her back.
Larry Wong, CP, the clinical manager at P&O Group, started researching possible solutions.
"Larry actually went to a conference to figure out what options were available for me because of how tricky the case was," Kseniya recalls. "He came back and showed me an Ottobock C-Brace brochure and said, 'This is your option.'"
The C-Brace is an orthotronic mobility system for people who have neurological indications of the lower-limbs due to partial paralysis, incomplete spinal cord injury, post-polio syndrome, quadricep weakness, or post-stroke. This orthosis does not walk for patients but frees them to ambulate to their full potential by helping normalize gait. C-Brace measures a person's walking in real-time and makes adjustments that allow for safer, more controlled, and more natural movement. By encouraging natural body posture, C-Brace reduces excessive strain on the sound-side limb, and advanced stumble-recovery features facilitate a greater sense of stability and security.
Immediate relief
Larry worked with the Ottobock Professional and Clinical Services team to determine whether Kseniya would be a candidate for C-Brace. Once her candidacy was confirmed, Larry set up an appointment to evaluate Kseniya in a trial orthosis.
The moment she put on the trial device, Kseniya noticed an immediate difference.
"When I put the C-Brace on, my back stopped hurting because I could stand up straight," she says. "I could put weight on my bad leg. I didn't want to give the trial brace back."
Convincing the insurance company to approve the leg orthosis wouldn't be so easy. "We had to prove that a locked brace wouldn't work for me," Kseniya says.
Finding her stride
Kseniya's insurance company approved the C-Brace in December 2017, and she received the custom-made device in February 2018. She is currently working with a physical therapist to improve her core strength, balance, and reduce the amount of hip instability when she carries something or has to go up or down stairs.
Kseniya says the C-Brace has not only helped to normalize her gait cycle, it has helped to normalize her lifestyle. Because of C-Brace, she can once again do things many people take for granted such as get in and out of a chair independently. She has also been able to resume some of the activities she enjoyed before her injury: going to the store, walking on the beach, and going to the zoo. But most importantly, she says, she can now carry her daughter while walking, something she had never been able to do before. With the help of C-Brace, Kseniya held her daughter during her first birthday party without the fear of falling.
"With the C-Brace, I can carry my child," Kseniya says. "I can put her in the carrier, and I can take her to the beach. She's got so much more room to explore because now we can go to the park, and I can let her go with the other kids. With the C-Brace, I can chase her, and I can catch her."
Kseniya even accompanies her daughter to ballet classes.
"I don't do the ballet moves with her, but I can sit and stand with her, and I taught myself how to change direction so I can walk in a circle while she twirls," she says. "With C-Brace, I can help my daughter twirl."